Run your business in a NIST compliant Kubernetes environment!
SIGHUP partners with Cysec to provide a secure Kubernetes-based automation platform for CI/CD and hybrid environments compliant with NIST SP 800-190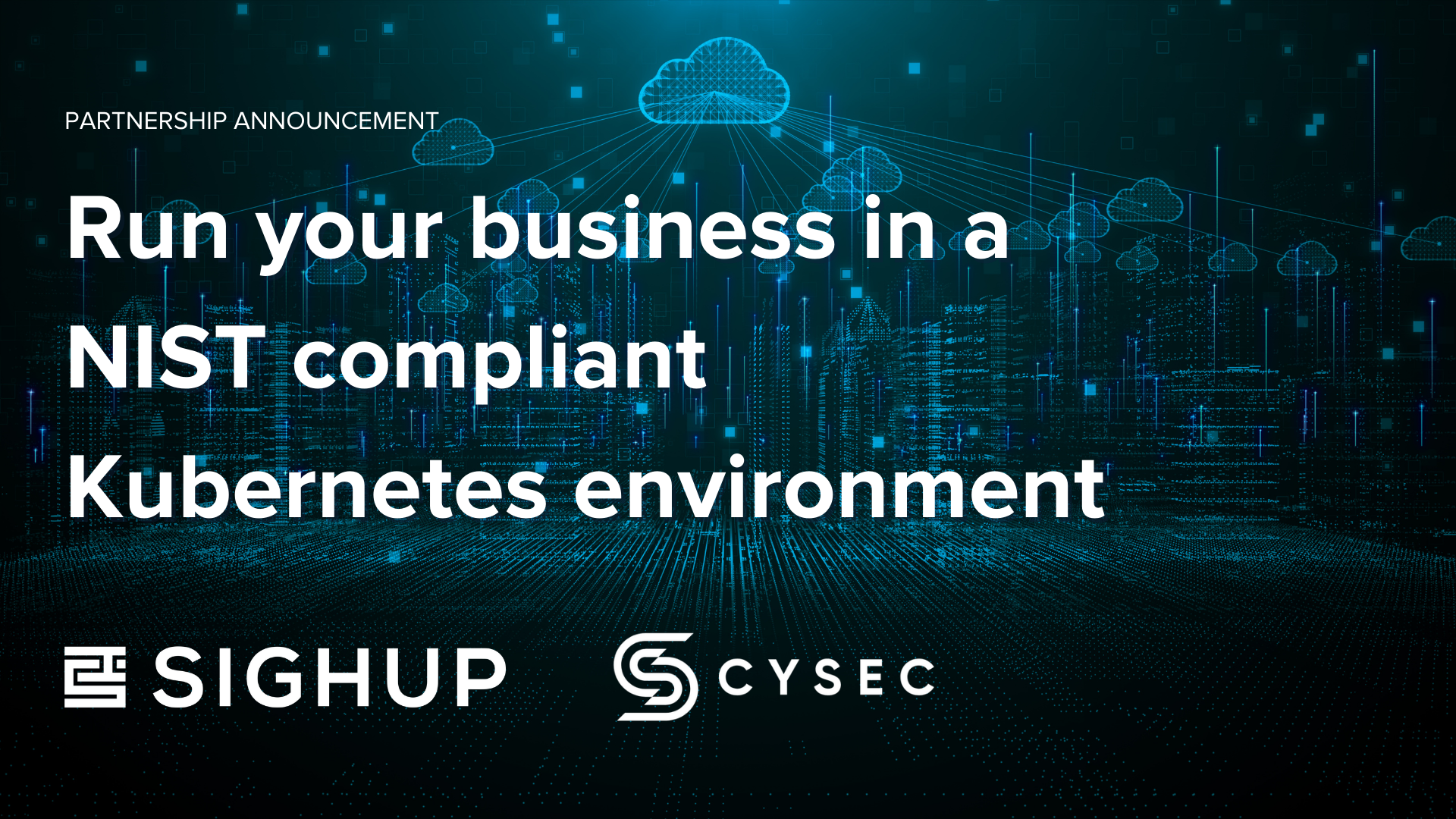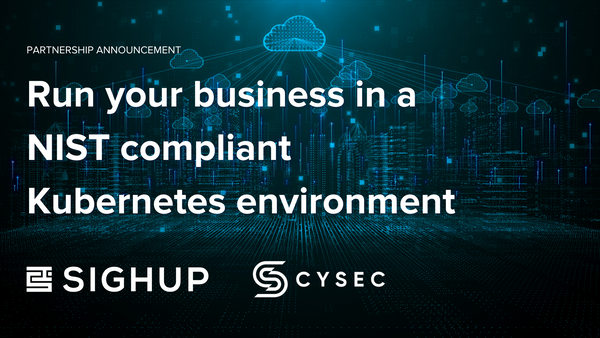 SIGHUP is partnering with Cysec to provide a secure Kubernetes-based cloud native automation platform for CI/CD process and production-grade secured hybrid environments that will be compliant with the NIST SP 800-190 recommendations for securing containerized applications and related infrastructure components.

The adoption of container-based architecture such as Kubernetes offers companies to speed up time to market (ex. improved app development/deployment efficiencies). Kubernetes enables a "microservices" approach to build apps but as well to cut infrastructure costs significantly through automation by intelligently scheduling and tightly packing containers, taking into account the available resources. As an orchestration system, Kubernetes is a critical management system for scaling up and improving app performance. One of the most significant benefits of Kubernetes and containers is that it helps realize the promise of hybrid and multi-cloud. Whether you are rehosting (lift and shift of the app), re-platforming (make some basic changes to the way it runs), or refactoring (the entire app and the services that support it are modified to better suit the new compartmentalized environment), Kubernetes has you covered.

While Kubernetes is an ideal solution to support business expansion, it presents many challenges and obstacles for users that generally fall into security, networking, deployment, scaling, and vendor support categories. They're at the forefront of setup and management and can make day-to-day tasks difficult if not addressed promptly. Security is one of Kubernetes' greatest challenges because of its complexity and vulnerability. If not properly monitored, it can obstruct identifying vulnerabilities. When you deploy multiple containers, it's difficult to detect vulnerabilities. This provides an easy way for hackers to break into your system.

With its Kubernetes Fury Distribution (KFD) CNCF-certified platform, SIGHUP offers a production-grade, battle-tested Kubernetes distribution based purely on upstream Kubernetes. It is developed and maintained by SIGHUP, and it is fully Open Source.
With KFD you can fully leverage the power of cloud native open standards across any provider or infrastructure, without compromising on enterprise security and support, thanks to its maintained components, architecture, and configurations.
"We are excited to announce our partnership with Cysec, a leader in secure Linux operating systems. Our combined offerings of Kubernetes Fury Distribution and ARCA Trusted OS provide NIST compliance and unparalleled security for our customers, particularly those in the financial services industry. With this partnership, we are able to offer our clients the best of both worlds, cloud-native innovation, and enterprise-grade security."
Jacopo Nardiello, CEO, SIGHUP

ARCA Trusted OS' Cysec core offering is a secure Linux-based container specific operating system combined with a trusted Kubernetes orchestrator. ARCA Trusted OS helps to reinforce all nodes of the software infrastructures where KFD is deployed. CYSEC ARCA Trusted OS is a trusted execution environment (TEE) for sensitive Kubernetes containers and workloads, with a hardware root of trust, that provides a higher level of data security while ensuring that key management is pain-free and performance is not compromised. CYSEC ARCA protects the confidentiality and integrity of sensitive data while it's being processed. It enhances data security by generating hardware-based, unexportable encryption keys. CYSEC ARCA protects the full stack, from hardware to kernel, to application. It is highly available, redundant, scalable, cost-effective, and DevOps friendly. Today ARCA Trusted OS fully operates on-prem, in public cloud (Google, Azure), and at the edge, and will continue to expand its footprint to fully support companies' hybrid strategies.
KFD and ARCA Trusted OS combined can integrate the Zero Trust approach and the NIST SP 800-190 recommendations for securing containerized applications and related infrastructure components. SIGHUP consulting expertise can complement the overall platform architecture with good practices so companies can fully adopt and pursue the NIST SP 800-190 recommendations over the lifecycle of their IT environment.
"The strong expertise and experience of SIGHUP on Kubernetes help, on behalf of the customers, to smoothly introduce Cysec container-specific OS within its enterprise-ready environment and support the performance and security modern business required."
Luca Gabella, VP Edge Computing at Cysec

In a fully managed way of the above solution, the setup and maintenance of the infrastructure will be done on behalf of companies IT teams, leveraging the latest technologies and complying with the strictest company policies and security standards. Those teams will enjoy the freedom to fully focus on their business within a secure Kubernetes environment. It will help them to increase productivity and faster time to market, to expand further the businesses into hybrid infrastructure, maximize the resources available and therefore reduce costs while limiting data breaches. Banks and Financial Services should be prime users of the KFD Arca Trusted OS combined platform to run and expand their business as well as Digital Services and Manufacturing companies. Generally, the combined offering of SIGHUP's KFD platform and Cysec's Arca Trusted OS targets every company that massively adopts Kubernetes and wants to concentrate on its business.

About SIGHUP:
SIGHUP is a unique, engineering-based organization and an Open Source Software Vendor focused on the development and automation of enterprise-grade IT infrastructure based on Open Source and Cloud Native technologies.
We aim to enable every organization to decrease their time to value, respond faster to change, and introduce new business capabilities with our Kubernetes Fury Ecosystem, a collection of technologies, skills, and consulting that accelerates the development and deployment of applications on Kubernetes.

About Cysec:
CYSEC is a European data security company providing a software solution in Confidential Computing, which enables companies to secure workloads on distributed infrastructures (from the core to the cloud and to the edge). CYSEC's flagship solution, called «ARCA Trusted OS» is a hardened Linux-based operating system combined with a secure Kubernetes orchestrator providing a trusted runtime platform for containers. ARCA provides cryptographic functions, in order to protect keys, code and data, be it at rest, in transit and in use.