How can you make your Cloud Native journey effortless?
SIGHUP & Mia-Platform have joined forces to build a Zero Effort Cloud Native Journey.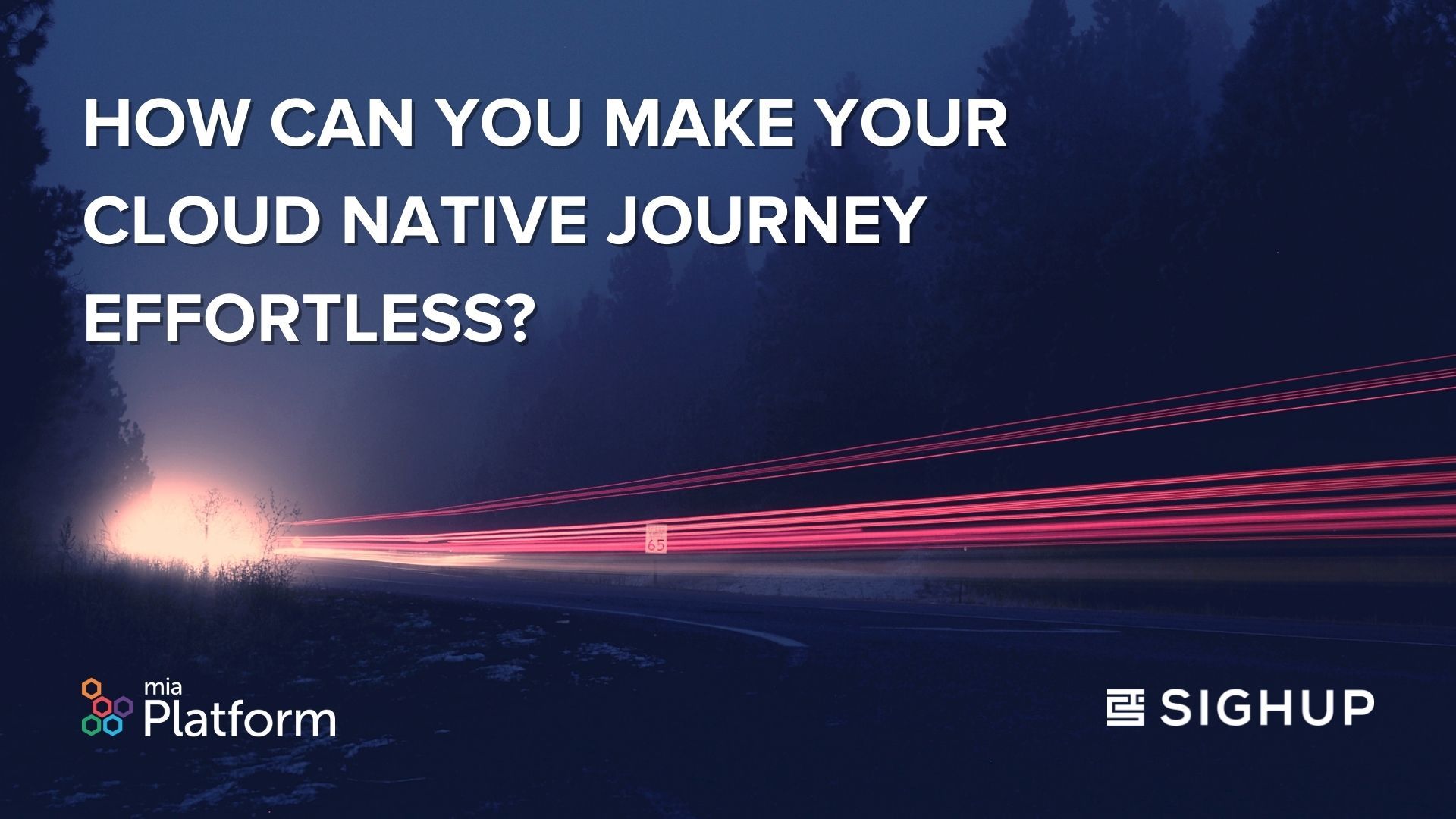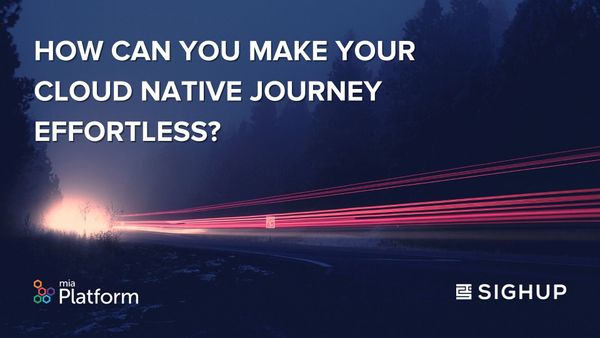 Let's start with the big news: SIGHUP & Mia-Platform have launched their partnership.
These two companies have a lot more in common than being Italian. They share the same Cloud Native DNA, and they both work to help companies adopt Cloud Native technologies.

This common background and a track record of hands-on experience in helping customers adopt Cloud Native led us on the same path and made us realize that by joining forces we could offer a greater customer experience: a Zero Effort Cloud Native Journey.
But what does that mean, exactly? Why is it something you should care about?
Adopting Cloud Native technologies involves dealing with a complexity that is a side effect of all its benefits.
On the one hand, a Cloud Native journey may entail a significant effort for companies because of a lack of expertise, experience and specific skills. On the other hand, if we look at the definition of "Cloud Native" provided by the Cloud Native Computing Foundation (CNCF) (you can find it on the GitHub code repository), it's immediately clear why companies should start to use it:

"Cloud Native technologies empower organizations to build and run scalable applications in modern, dynamic environments such as public, private, and hybrid clouds. Containers, service meshes, microservices, immutable infrastructure, and declarative APIs exemplify this approach. These techniques enable loosely coupled systems that are resilient, manageable, and observable. Combined with robust automation, they allow engineers to make high-impact changes frequently and predictably with minimal toil."

So, starting a Cloud Native Journey can be a scary scenario, especially when you do not have a trusted partner to help you set up a proper strategy and identify how to translate your business needs into technical requirements.
But don't worry, this is where we come in!
SIGHUP and Mia-Platform decided to combine their products and expertise to speed up customers' Cloud Native journey and make it painless.
You may find this hard to believe, but keep reading, and you will find that our Zero Effort Cloud Native Journey model is the shortcut you have been looking for!
Zero Effort Cloud Native Journey model

SIGHUP, the Open Source Software Vendor that develops and maintains the Kubernetes Fury Ecosystem, a collection of technologies, skills and consulting that accelerates the development and deployment of applications on Kubernetes, has signed a strategic partnership with Mia-Platform, the Italian tech company providing one of the best solutions worldwide for the end-to-end creation of Cloud Native digital platforms, named as a Cool Vendor in the Gartner report on "Cool Vendors for Software Engineering Technologies 2021".
Thanks to this collaboration, SIGHUP's experience in supporting Kubernetes enterprise-grade and mission-critical infrastructures meets Mia-Platform's innovative software suite to develop digital platforms on Kubernetes.

SIGHUP enables customers to design, build and develop an enterprise-grade IT infrastructure based on Kubernetes.

To reach this goal, on top of Fury Kubernetes Distribution, we developed our product range to support the process end-to-end.
Fury Managed is the enterprise service designed to help companies to use Cloud Native technologies in production environments, and it brings SIGHUP's team to the core of our Clients' Kubernetes adoption path.
We take care of the setup and maintenance of the infrastructure directly, leveraging the latest technologies and complying with the strictest company policies and security standards.
When the production environment is ready, there's another complexity to manage: Developers should be able to operate on top of this infrastructure using a DevOps methodology.

Mia-Platform Console is the key to unlocking this latest step of the journey. The solution is a full-fledged Internal Developer Portal, that enables companies to industrialize and govern cloud-native software development and operations.
For those who are not familiar with this definition, an IDP is a single portal that brings together all the tools and technologies available and used within the company. Thanks to this powerful tool, Dev Teams can focus on developing functionalities related to the company's core business instead of wasting energy and efforts developing capabilities that are already built, or that can be developed faster thanks to templates and libraries already available.
Mia-Platform Console is a top-notch Internal Developer Portal, and was recognized in multiple Gartner reports as a market leader for this type of solution.
Mia-Platform Console not only allows Dev Teams to manage the entire lifecycle of their applications on Kubernetes, but they can also control all their preferred development tools in a single place. The solution provides all the capabilities to build and manage a Digital Platform at scale, providing a user-friendly and unique Developer Experience.
By providing enhanced visibility, traceability, auditability, and observability across the whole DevOps cycle, Mia-Platform Console helps DevOps teams to guarantee business continuity, security, and DevOps evolution, while improving the collaboration within Dev Teams thanks to a better Developer Experience.
In conclusion, Mia-Platform ensures configuration lifecycle governance down to runtime and monitoring. SIGHUP provides all the elements to "mount" the GitOps pipeline and monitor it. Mia-Platform is the user interface that simplifies DevX on a GitOps cycle and SIGHUP on the underlying runtime.
And that's it. Your Cloud Native Journey will be complete.
Take the chance to reap all the benefits of Cloud Native while staying focused on your business needs and without the need to worry about complexity!