SIGHUP and Chainguard Partner to deliver Cutting-Edge Software Supply Chain Security in the European market
We are excited to share that SIGHUP and Chainguard have teamed up to design the forefront of infrastructure and software supply chain security.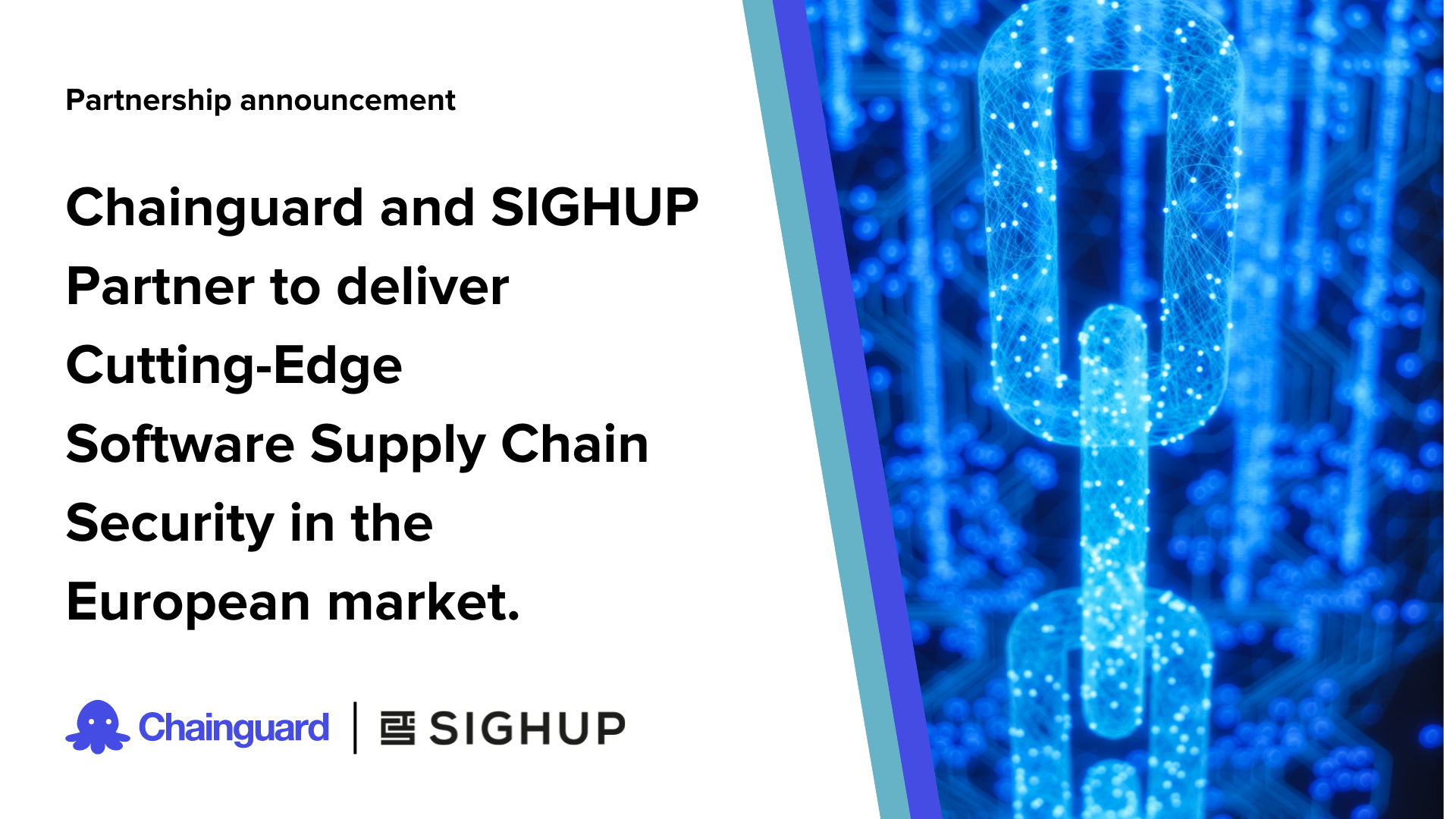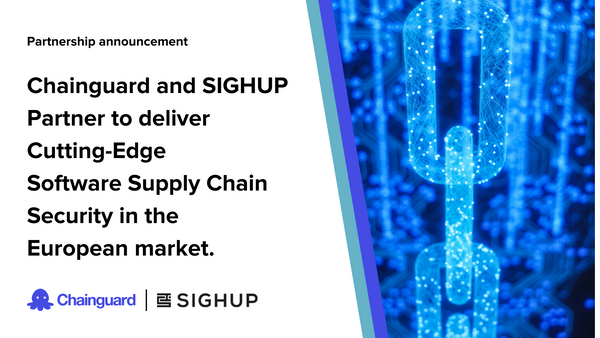 We are excited to share that SIGHUP and Chainguard have teamed up to design the forefront of infrastructure and software supply chain security.
This collaboration marks a significant milestone in the European realm of cybersecurity and sets the stage for groundbreaking advancements in protecting Cloud Native infrastructure against emerging software supply chain threats.

Together, SIGHUP and Chainguard are poised to redefine the future of secure software development and ensure the integrity of digital products with the aim of providing cutting-edge solutions that help to safeguard European organizations' software supply chains.

A common vision for a game-changing collaboration
SIGHUP, renowned for its Cloud Native infrastructure solutions and services, adds unparalleled expertise in Infrastructure automation, Kubernetes, and DevSecOps to this new exciting partnership.
With a comprehensive suite of tools and open-source projects, SIGHUP simplifies complex infrastructure management and bolsters the security posture of cloud-native environments.
Its commitment to empowering organizations to run in enterprise-grade production environments best in class Cloud Native Open Source solutions and its strong focus on securing Cloud Native architectures make them an ideal partner to enable European organizations to obtain hardened software supply chain security.

Chainguard is a revolutionary software security company founded by the industry's leading experts on open source software, supply chain security, and cloud-native development.
The company is on a mission to make the software supply chain secure by default, providing products like Chainguard Images and Chainguard Enforce that offer peace of mind for CIOs while maintaining a seamless developer workflow.
With its fortified software delivery solution, Chainguard makes it possible to build software right from the start, helping protect organizations from vulnerabilities in first and third-party code, making them an ideal solutions provider for this strategic partnership.

Securing the Software Supply Chain
The partnership between SIGHUP and Chainguard is specifically designed to address critical challenges faced by European organizations in software supply chain security. Leveraging their collective expertise, innovative solutions, and commitment to excellence, SIGHUP and Chainguard are poised to redefine the security landscape of software development. Together, they empower organizations to protect their software supply chains, safeguard digital assets, and mitigate the risks posed by emerging threats.

The Future of Secure Software Development
As this partnership unfolds, the future of software supply chain security shines brighter than ever before. By delivering cutting-edge solutions tailored to the European market needs, SIGHUP and Chainguard ensure a safer and more resilient digital world for all. With a shared vision of securing the software supply chain, this collaboration paves the way for organizations to confidently embrace the advantages of Cloud Native infrastructure while minimizing vulnerabilities and threats.

"We are thrilled to declare a groundbreaking alliance between SIGHUP and Chainguard" stated Jacopo Nardiello, Founder & CEO @SIGHUP.  "This partnership unifies SIGHUP's unparalleled expertise in crafting resilient infrastructures using state-of-the-art upstream technologies and Chainguard's avant-garde approach to software supply chain and cloud-native security solutions. Our combined strengths mark a key turning point in the realm of cloud-native security and DevSecOps, ultimately establishing new standards of excellence for European organizations. Together, we will revolutionize the cloud native landscape, offering the highest standard for robust and secure systems for truly mission critical environments. Brace for a transformative journey into the future of cyber resilience".

"Chainguard's partnership with SIGHUP provides an exciting opportunity for European organizations looking to strengthen their software supply chains," said Dan Lorenc, CEO and Co-founder at Chainguard. "Combining Chainguard's fortified software delivery approach, where security is built-in from the start, with SIGHUP's service offerings and expertise in cloud native infrastructure will open up an important marketplace for best-in-class software security in Europe."

Conclusions
Thanks to this unique collaboration, businesses can confidently navigate the evolving landscape of Cloud Native infrastructure, knowing that their software supply chains are fortified against vulnerabilities. Together, SIGHUP and Chainguard are driving a paradigm shift in software security, ensuring a resilient and secure digital future for European organizations.