SIGHUP Announces New Partnership with Snyk
SIGHUP announces its Partnership with Snyk. Joining the forces together, these two companies aim to speed up developer security and DevSecOps best practice adoption.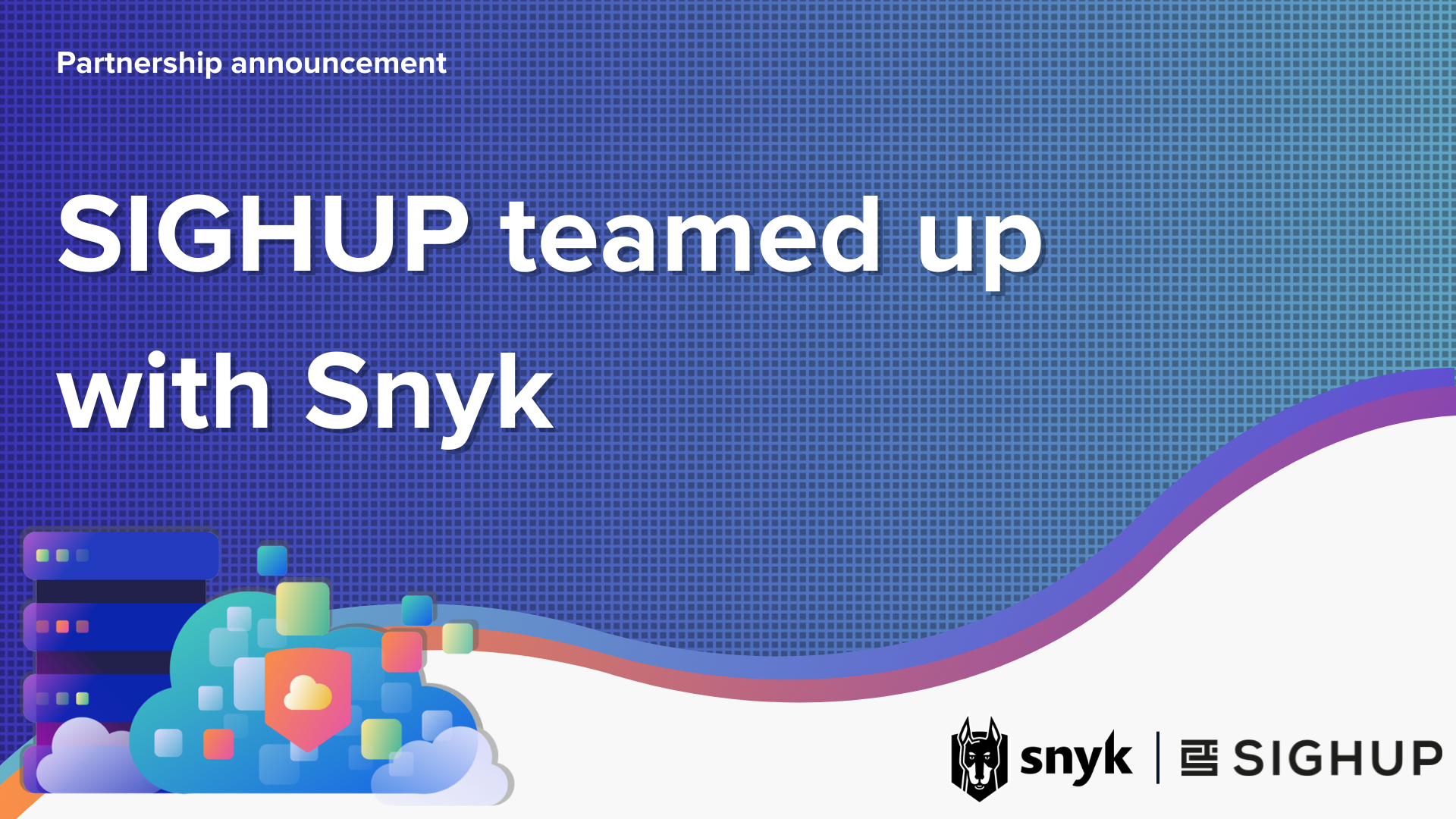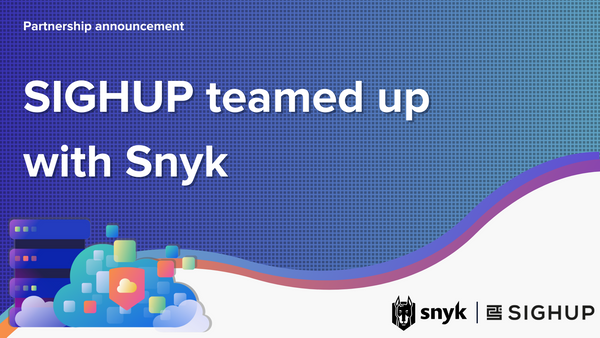 SIGHUP and Snyk work together to help organizations in their DevSecOps adoption journey

SIGHUP announces its Partnership with Snyk.
Joining the forces together, these two companies aim to speed up developer security and DevSecOps best practice adoption.
Cloud Native technologies and Kubernetes are challenging for many organizations in terms of lack of skills and expertise, so, especially when it comes to security, it can be threatening to implement them.

During the last years in the Cloud Native environment, developers' velocity of building and releasing code has been faster than ever.
Now Developers are producing tons of code daily, and the security team risks becoming a bottleneck in the release process.

That's where Snyk shows its incredible value by helping security teams to easily maintain control without becoming a stopper while, on the other hand, the platform enables developers to produce better, more secure and smarter code.

This new partnership will add Snyk to the SIGHUP partner landscape, empowering its DevSecOps team portfolio of expertise.
With the aim to speed up and smoothen the journey of those organizations that are embracing or empowering their security policies in a Cloud Native environment.


"As the demand for developer security grows, we are always looking to expand our partner ecosystem and help businesses all over the world capitalize on that opportunity. Our latest partnership with SIGHUP will help us continue our mission to empower developers all over the world with dev-first security by offering our mutual customers the ability to integrate Snyk into existing workflows, tools and processes while boosting SIGHUP's DevSecOps capabilities.
Thus, we're very excited to further our relationship with SIGHUP and include them in our partner ecosystem."
Udi Nachmany, VP EMEA Alliances & Global Cloud Alliances at Snyk

"SIGHUP is extremely pleased to be the first Italian company to bring a great product on the market and make it available to all our current and potential customers.
The surface of attacks is continuously growing, and developers need tools like Snyk to identify and quickly eliminate vulnerabilities in the code they write as well as in the container images and libraries they use, in addition to the infrastructure and infrastructure as a code as well: one 'scan' to rule them all! Snyk is extremely easy to use, very fast, and comes with a leading and continuously up-to-date vulnerability database and learning portal. Made to be loved by developers and CISOs / security team: DevSecOps as it should be."

Paolo Castagna, Head of Sales at SIGHUP
About Snyk
Snyk is the leader in developer security. We empower the world's developers to build secure applications and equip security teams to meet the demands of the digital world. Our developer-first approach ensures organizations can secure all of the critical components of their applications from code to cloud, leading to increased developer productivity, revenue growth, customer satisfaction, cost savings and an overall improved security posture. Snyk's Developer Security Platform automatically integrates with a developer's workflow and is purpose-built for security teams to collaborate with their development teams. Snyk is used by 2,300+ customers worldwide today, including industry leaders such as Asurion, Google, Intuit, MongoDB, New Relic, Revolut and Salesforce.
Snyk is recognized on the Forbes Cloud 100 2021, the 2021 CNBC Disruptor 50 and was named a Visionary in the 2021 Gartner Magic Quadrant for AST.
About SIGHUP
SIGHUP is an Open Source Software Vendor focused on developing and automating enterprise-grade IT infrastructures based on Open Source and Cloud Native technologies. We enable organizations to adopt Cloud Native technologies and run mission-critical production workloads thanks to our Kubernetes Fury Distribution and a collection of technologies, skills and consulting paths that accelerates the development and deployment of applications on Kubernetes.
SIGHUP is a CNCF Certified Service Provider with years of experience in engineering advisory on Cloud Native Best Practices and Infrastructure Automation for Enterprise-grade and mission-critical environments. With a fully dedicated DevSecOps team, we aim to support customers from the earliest security steps to assess their needs and help them implement all the required actions and policies.