PromCon EU 2022: Our highlights
As our company sponsored PromCon EU 2022 and a delegation of us had the chance to attend the conference, we decided to share an event wrap-up.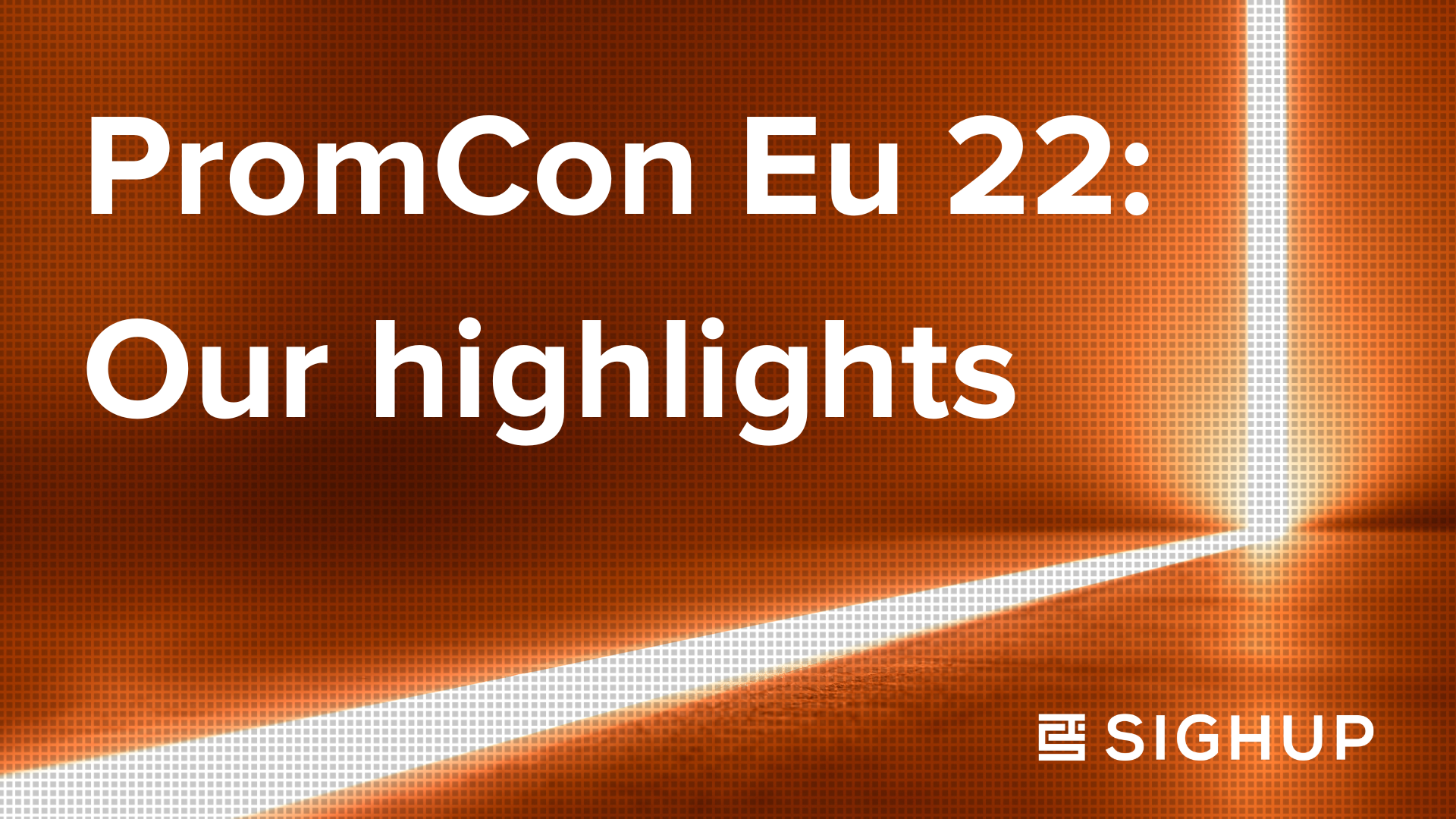 At the beginning of November, we were lucky enough to travel to Münich and attend the first in-person PromCon EU since 2019, and it was great to join once again the Prometheus community.

Those two days were full of insightful talks about Prometheus and its use cases.
As our company sponsored the event and a delegation of us had the chance to experience this amazing conference, we decided to collect our highlights of the PromCon EU 2022 in this article and share an event wrap-up to spread the knowledge for those who cannot attend.
Native Histograms

In the 2.4.0 version (released live on stage!) Prometheus reached an important milestone with the introduction of native histograms which is the culmination of years of work.

Ganesh Vernekar unveiled the foundational concepts and the inner working of the new native histograms during his talk, and immediately after, Björn Rabenstein followed his talk by showcasing the new feature.

If you want to deep-dive a little into these talks, here are the links to watch them:
Monitoring at the Edge

What to do if you need to monitor your Point of Sale infrastructure without relying on "conventional" service discovery mechanisms?

Felix Peters got us covered with his brilliant talk that showed how to leverage Prometheus HTTP Service Discovery in tandem with Netbox to solve the "service discovery problem" for on-prem infrastructures.

Here is the link to see the full talk
Prometheus meets Machine Learning at the crossroads of Capacity Planning

How can we use Prometheus to forecast resource usage when its growth pattern is non-linear?

Andrew Newdigate showed us Tamland: a capacity planning tool built by Gitlab to forecast potential capacity issues of the infrastructure running gitlab.com by using the metrics spanning one year stored in Thanos.

Watch the full use case here
Alerting with Confidence
When introducing a new alert in your monitoring infrastructure, did you ever ask yourself if you had set the correct thresholds? Who will receive the alerts?

Xintao LAI answered these questions by sharing how Shopee integrated an automated feedback loop in their CI system to help users gain more confidence in their alerting pipeline.

At this link, you can find the full talk and discover more about the solution Shopee chose.
Conclusions
Overall, the conference was a blast!
It was amazing to see this conference come back in in-person and have the chance to meet the amazing Prometheus community again.
We can't wait to join the next PromCon EU in Berlin in 2023; attending community conferences is always a pleasure because they represent an incredible opportunity to improve knowledge and meet awesome professionals worldwide.
Hope to see you all in Berlin next year!