SIGHUP's tales from KubeCon + CloudNativeCon EU 2023
Read the SIGHUP's tale from KubeCon EU 2023. We share our experience at the conference, retracing announcements, talk takeaways, trending topics highlights and upcoming events.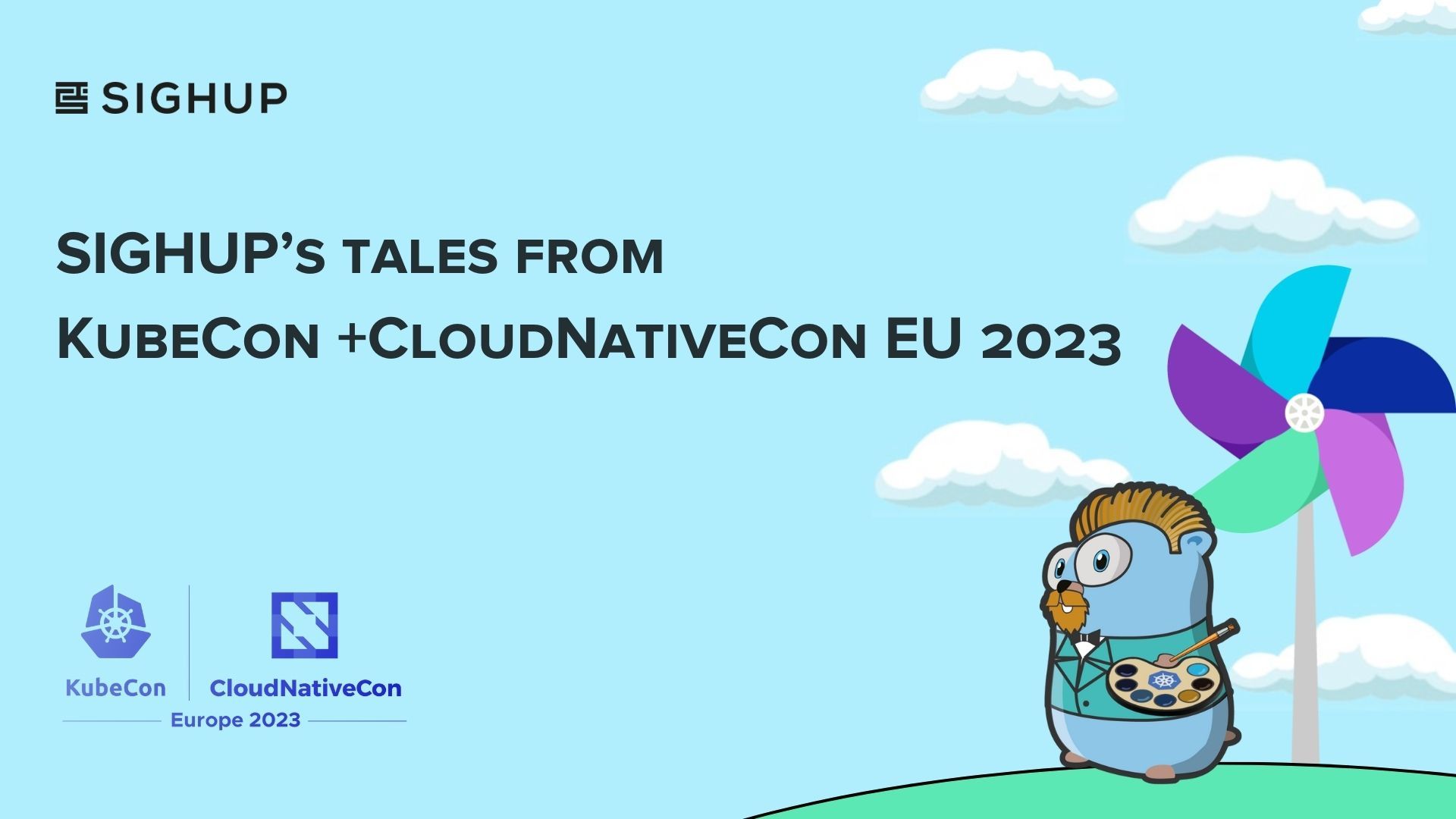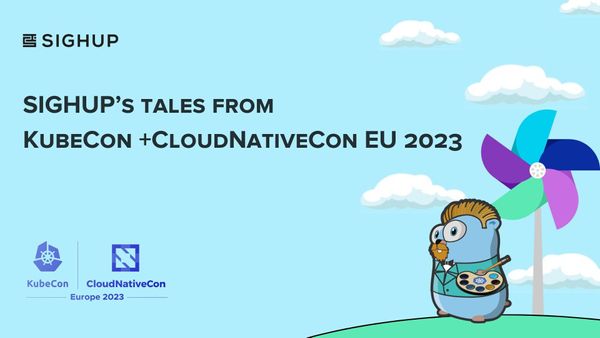 Kubecon EU 2023 was a huge event!
It has taken place between the 18th and 21st of April in Amsterdam, one of the most suggestive places in Europe.  

SIGHUP, a proud Silver sponsor of the event, was there to support and feel the community and have the chance to spend time with customers, partners and colleagues.
From all over Europe, a group of 20 Sighuppers landed in Amsterdam with some critical missions:
Meet new people and friends at our booth to explain our products and culture.
Announce new products and latest releases to let the community know that SIGHUP keeps rocking!
Attend technical sessions to keep our company updated.
Have a ton of chats with partners and new vendors.
Enjoy the amazing Cloud Native community and dedicated events of the different groups where we are involved.
Have fun together. As a full-remote company, we consider events an outstanding opportunity to see and know each other better. Each night became an informal team-building session.

Our expedition was a total success, and we are happy and proud to say, "Mission accomplished"!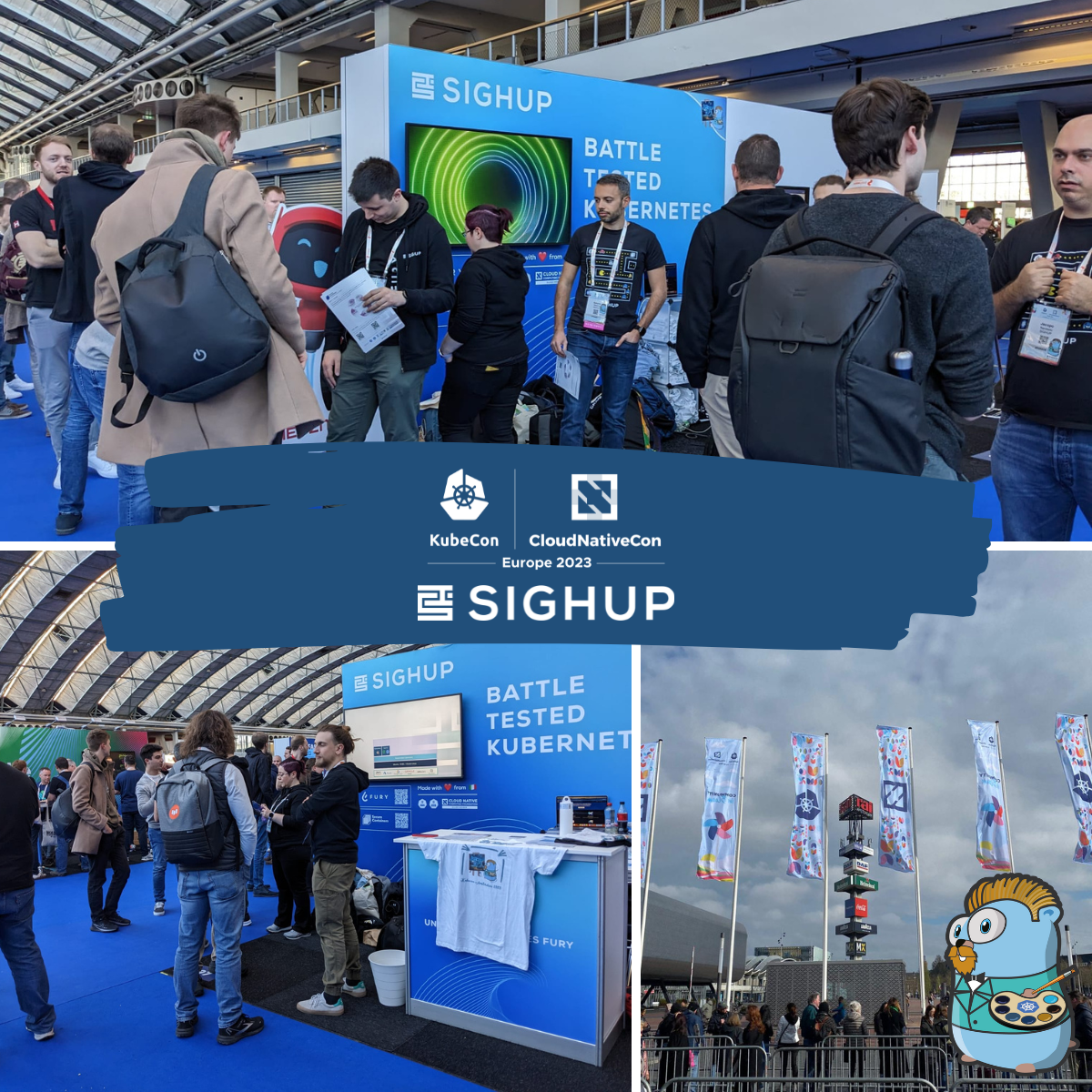 Highlights from our booth
It was amazing to feel the vibrant spirit of Cloud Native, and much more incredible was the interest people showed in our products and approach.

As a Startup, you struggle every day to make your value shine in front of giants.
They have more money, more people and a bigger name, but during these kinds of events, you really see that people share your values, believe in your vision and love your products!

We met hundreds of tech people at our booth, and we had the chance to chat and present our services, products and Open Source projects, like:
Kubernetes Fury Distribution (KFD) is a CNCF-certified, production-grade, battle-tested Kubernetes distribution based purely on upstream Kubernetes. It is fully open source and aims to turn any standard Kubernetes cluster into a fully-configured production-grade cluster.

KFD can be deployed on top of any standard Kubernetes cluster and of all the major managed solutions such as GKE, EKS, and AKS. Additionally, we support vSphere for private cloud installations.

💡 Discover more about our distribution and how we built it
🦾 Try Kubernetes Fury Distribution
🎯 Contact us to schedule a demo and discover more about our support services
Announcing the next generation of Furyctl CLI
furyctl is the Swiss Army Knife for Kubernetes and optimized for Kubernetes Fury Distribution. It is a command-line tool developed by SIGHUP to support the full automatic provisioning of Kubernetes clusters in all supported cloud environments and the end-to-end setup and maintenance of its upstream reference architecture based on pure CNCF components.
This new release of furyctl includes an improved User Experience of the existing furyctl tool that allows users to smoothly and fully automatically deploy a battle-tested, production-grade Kubernetes Cluster.
Thanks to furyctl, Cloud Native engineers will be able to manage the entire lifecycle of a full production-grade Kubernetes cluster using only one configuration file. It will fully configure and deploy the cloud environment, Kubernetes, alongside its full cluster lifecycle and all modules composing KFD - ready to be used in production.

Currently, in its first early release, it supports EKS-based environments only; more providers will follow in the upcoming releases.
👉 Read the announcement
🚀 Visit the GitHub project

KFD secured by Yoroi
We have been extremely excited to announce our partnership with Yoroi to deliver our own solution of KFD secured by Yoroi. We aim to provide the best and most secure Kubernetes Distribution, integrating by default the Yoroi suite and products into our own KFD, maximizing Cloud Native environment benefits and minimizing the Cybersecurity threats related to Kubernetes adoption.

YOROI – one of the most prestigious cybersecurity players in Italy, an active member of FIRST and the only Italian member admitted to the Cyber Threat Intelligence Alliance  - develops and manages Adaptive and Dynamic Cyber Defence Systems for its customers, using proprietary technologies with the aim of significantly reducing their risk of suffering cyber attacks and preventing the related damage from compromising the continuity of their business and corporate stability.
Summing up the two companies' skills, we developed a solution that merges all the key strengths of upstream Kubernetes, thanks to KFD, with the innovative defense approach to Cyber Security provided by YOROI.
KFD secured by YOROI will integrate dedicated Cybersecurity modules based on YOROI technologies. Those technologies aim to protect network communication "from" and "to" pods and constantly monitor processes against malicious content directly containers side.
We aim to bring to the market a cutting-edge solution with a pioneering defence approach to Cluster security.
💡 Book a spot with our expert to explore the solution
👉 Read the announcement blog post
Enhance Monitoring module forCyberArk Conjur
SIGHUP is an official CyberArk partner with years of experience supporting customers managing Conjur over their infrastructures for runtime secrets and identity management. Our hands-on experience and strong expertise led us to develop a solution to give customers overall visibility on Conjur's Cluster status: The Enhanced Observability and Monitoring module for CyberArk Conjur by SIGHUP.
Thanks to this tool, based on Prometheus with Grafana's dashboards, Conjur customers will obtain a deeper view of the current Conjur Cluster status thanks to a dedicated dashboard, metrics analyzer, and an enhanced monitoring system.

🦾 Get control over CyberArk Conjur Secret Management tool
💡 Read the announcement
Secure Containers: introducing Alpine-based images and an expanding catalog

SIGHUP Secure Containers is an enterprise-grade OCI-compliant containers catalog proactively maintained, hardened, and secured.

Base images for your applications are the core of your containerization strategy.
Keeping tight control of your base images and having a trustworthy source for your containerised services is fundamental to the overall container security processes and best practices.
During the KubeCon, we announced an exciting new entry to our catalog: Alpine Images.
Alpine is one of the most popular Linux OS because it's " Small, Simple, Secure". Over time Alpine has gained large popularity to be used as a base image because has a reduced footprint with a smaller attack surface.
For our security team, adding Alpine as flavor inside our image catalog was a natural evolution of our service. Alpine was an addition to Debian bullseye, and we are still working on another catalog expansion to be announced in the future.
Meeting the security needs of organizations that rely on containerization for their development and operations is the main purpose for which our catalog is designed.

Our service offers an ever-growing set of feature-rich, security-hardened images that will help you improve the security of your containerized applications.
Each and every image of our catalog gets continuously scanned for vulnerabilities and security risks and patched proactively whenever possible.
We provide our customers with a weekly summary of the most important changes and updates. Our summaries include detailed descriptions of new releases and deprecations and end-of-life and support reports to help you plan your future updates in due time.

🚀 Request your 1-month free trial by contacting us: GET STARTED NOW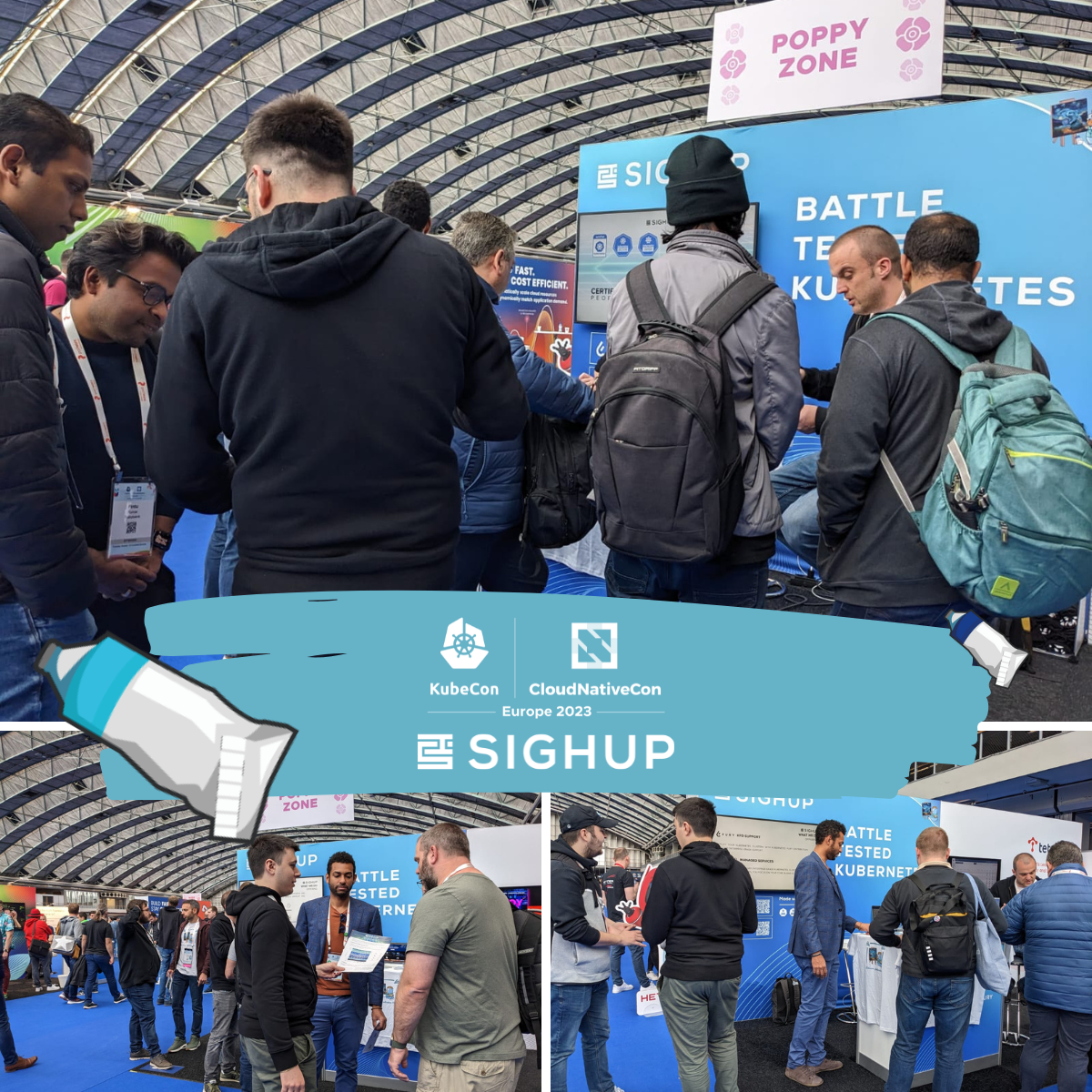 SIGHUP's Talks take away

KubeCon it's the CNCF Flagship event and represents the most ambitious stage for all the community members.
People worldwide work hard to present the most insightful talks and gain their spot to highlight new trends, present innovations or tell their success stories.

Trending topics were about security supply chain, observabilities and eBPF with Cilium. From dedicated Co-located event (CiliumCon) to booth chats, form talk mentions to the presence in the project pavilion rumours, the Container Network Interface (CNI) project, built on eBPF, it's now under the spotlight.

The conference schedule counts more than 40 talks related to Security topics demonstrating that this is something capable of drawing interest and packing talk rooms.
We can't say this is unexpected; the more Kubernetes and Cloud Native ecosystems penetrate enterprises and goverative organizations, the more security becomes crucial for success.

We had the chance to touch this vibrant interest at our partner's booths: Cyberark, Sysdig and Snyk. KubeCon gives our DevSecOps team the opportunity to align face-to-face with them, discuss current projects, make future plans and plan new inspiring activities for Italian customers and the community!
"Software supply chain security was one of the hottest topics for security. My favorite talks were about SLSA, In-Toto, and IBOM"

Matteo Bisi - Senior DevSecOps Engineer / Team Lead @SIGHUP
"I really enjoyed the Security Village area of this year's KubeCon, hopefully, the security trend will continue to go on.

I found really interesting talks like Malicious Compliance, where the hosts try to make a 100% security compliant container by dodging vulnerability scanners and obfuscating the code, in a comical and funny way.  Also on the same matter: Datadog's Journey of Image Signing and Runtime Verification at Scale has shown some real world scenarios from which to learn and take inspiration."

Luca Bandini - DevSecOps - DevOps Engineer @ SIGHUP
FinOps and Cost Optimization are riding high, showing increasing attention to optimising cloud costs and efficiently using resources. The KubeCost delegation in Amsterdam confirmed our feelings during the dinner we hosted together with Tigera for current and potential customers. It's clear that the final goal to find a balance between efficiency and cost optimization without sacrificing performance and innovation is one of the main objectives for the Cloud Native industry and end users.

Whit the growing complexity of Kubernetes deployments, observability and monitoring became key themes. Talks focused on effective monitoring strategies, distributed tracing, log management, metrics collection and analysis, and tools for troubleshooting and debugging in a Kubernetes environment.

The event schedule - and booth conversations - clearly show a confirmed interest in multi-cloud and hybrid cloud strategies and a growing hype around the convergence of Kubernetes and emerging technologies -  like artificial intelligence (AI), machine learning (ML), and big data processing.
This conference is an outstanding opportunity for feeling the vibe of rising trends as well as a unique chance to share knowledge, best practices, and insights to help organizations navigate the evolving landscape of Kubernetes and cloud-native technologies.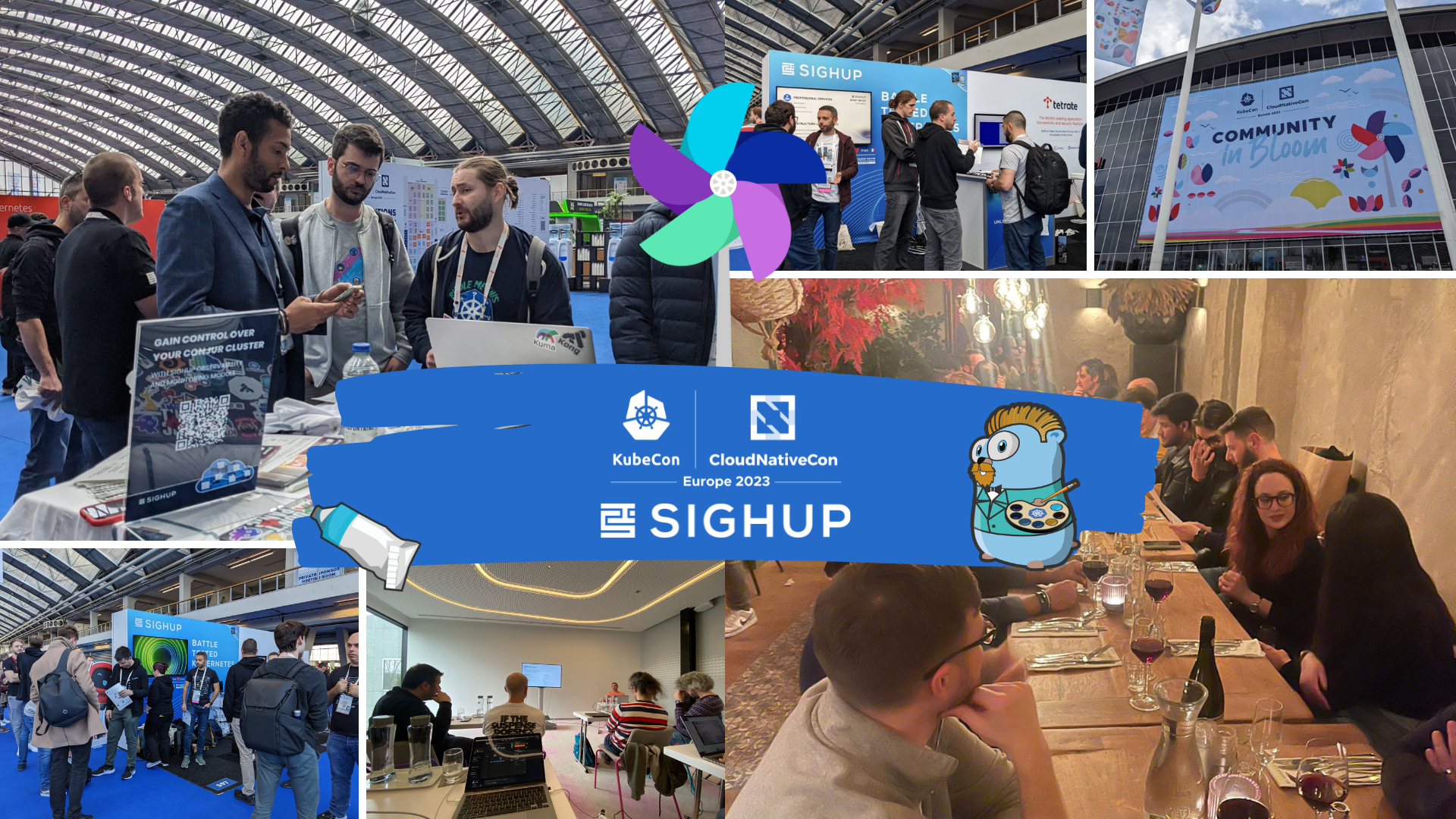 Conclusions and join us for our upcoming events
KubeCon it's always an incredible event that brings together passionate people and amazing companies, but there are a ton of other events made to enhance the Cloud Native community and spread knowledge.
So if you missed the Kubecon EU 2023 or you loved it so badly that you want to feel as soon as possible the vibrant spirit of the community,  we have a couple of suggestions for you:
SIGHUP and Isovalent joined forces to empower the Italian community with a half-day dedicated to deep-diving into Cilium and its adoption on Kubernetes.

Join us to see Cilium in action leveraging the knowledge of the core maintainers during a hands-on workshop that will give you a better understanding of the technology behind it (ebpf for the win!).
The workshop and the meetup we will host afterwards, with the  Kubernetes & Cloud Native Milano group, represent a unique learning opportunity!

🎟 Workshop registration page
🍕 Meetup registration page

Come to discover the power of Cilium during a whole afternoon of labs and demos, and an evening meetup with experience-based talks that will lead us to discuss the adoption of Cilium in the real world!

Save your seat; registrations will be open until Friday, May 26th!

🎟 Workshop registration page
🍕 Meetup registration page
Kubernetes Community Day Italy - 16th of June
KCD Italy is an event supported by the CNCF (Cloud Native Computing Foundation) and organised by the Italian Kubernetes community, whose goal is to spread knowledge and create spaces for sharing and comparison on all open source and Cloud Native topics.

This edition of Kubernetes Community Day Italy will finally be in person and will be held on 16 June 2023 at Officine del Volo in Milan.

🎟 Get your ticket here
We will share know-how, stories and experiences (not necessarily successful) of great professionals, emerging figures, Cloud-Native enthusiasts and evangelists of various backgrounds.

We want to involve more and more developers and architects with different levels of professionalism to grow the CNCF community. After the KCD, don't miss the Meetups in the months to come!

Ps: Remember that about 50% of the talks will be in Italian.
Last but not least, if you liked our limited edition swags about Vincent Van Goopher, you should know that we already have some ideas about the next theme, so keep following us!